How To Stop Spam On WordPress Blogs
Akismet SPAM STOPPER
We all get those spam comments with terrible spelling trying to sell us various pharmaceuticals and/or telling us how great our blog is. They are annoying and no one wants them to show up on their blog posts (despite how nice the comments sometimes are).
With WordPress.org there is a plugin called Akismet that is automatically installed when a new blog is set up to help stop the spam comments from being approved. But before it can do it's job it needs to be activated with an API key.
Go to Plugins, Installed Plugins
Find the Akismet plugin and click on Activate.
Now the plugin is activated but it needs an API key to work.
Get The Akismet API Key
Click on the link "enter your Akismet API key."

The next screen has a link to click that says "Get your key."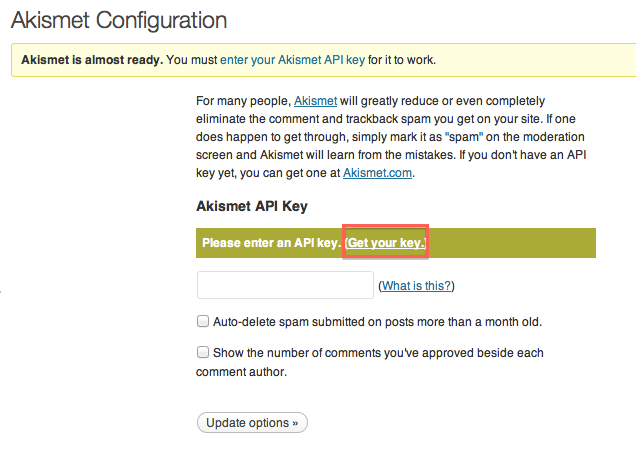 Now you are taken to the Akismet site. Click the big blue button "Get an Akismet API key."
There are 3 options to pick from for your Akismet service: Enterprise, Pro, and Personal. If you have a personal blog then select the Personal option.
After selecting your plan you need to enter your contact info: First name, last name, and email. Also, you have the option of deciding how much to pay for Akismet. You can move the slider to the amount you want to contribute (I selected $0). Agree to the terms and conditions and then click "Continue."
Now your Akismet subscription is set up and you will have an email with your API key.
Copy the API key from the email, go to Plugins, Installed Plugins, Akismet Settings and paste the key into the Akismet API key box. Be sure to click Update options after entering the API key.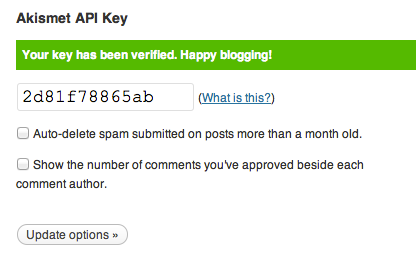 With Akismet activated spam comments should be caught in its filter and placed into your spam comment folder where you can then delete the comments.
Be sure to scan your spam comments though before deleting as occasionally a real person will get caught in the spam filter (it has happened to me).
Post Courtesy of Jessica Torres
Youtube Clip below on how to spam using Akismet.